Stuart began selling The Big Issue in September 2017 and quickly began building up his sales and regular customers at Green Park (Bath).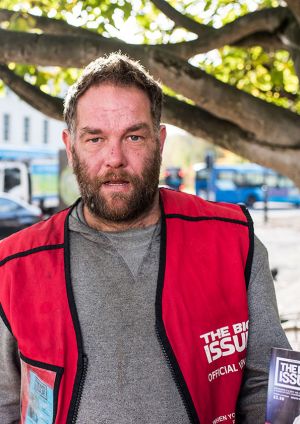 He was eager to engage with the support on offer and through the course of reviews and conversations, we were able to identify key areas where Stuart could take steps forward. Over the next few months, The Big Issue Foundation was able to help him move toward opening a bank account and registering with a GP, to apply for a Personal Independence Payment (PIP) and to explore his longer-term aspiration to become a mentor for other homeless people.
"I'm building this pitch up because another vendor had it before, and so now I'm trying to get some new clients and find some more people who might want to buy the magazine. I'm also getting to know the market people – they're good as gold.
It's going well. Last week I sold 55 which is very good. For me, selling the magazine is all about being polite and courteous. I don't shout things, but I say, 'Good morning ma'am, would you like a Big Issue today?'
My customers are very good. There's one guy called Mark who works in the market, every day he'll bring me coffee, maybe a home-made flapjack or some banana cake. He buys the magazine every Monday. I'm sleeping rough in Bath at the moment. I change where I sleep every night, but I can't see any prospect of anything more settled in the near future because I don't have a local connection.
I'm a head chef by trade and I used to have my own business running a café and catering firm in Cheltenham. I was going to people's houses, putting on birthday parties, wedding parties, stuff like that. But it was too stressful, and eventually I had a nervous breakdown.
Then I just ended up on the streets – in Bristol, Manchester, London, Birmingham and now in Bath. But now I'm selling the magazine and I'm doing well.
For me it's about respecting people. If they're having a bad day you go up and say, 'I'm here if you want to talk.' I do that for all my customers.
I'm done with catering now, it's too stressful. I'd like to get into working with homeless people. I'm interested in doing outreach work, getting out in the morning to give rough sleepers tea and coffee and trying to get to know them."
Stuart is on his pitch at Green Park Station (Bath) daily from 9am until 5pm.
---
Service Brokerage is our core work. We train our frontline staff – Service Brokers – to provide expert information, advice and guidance in response to needs disclosed by Big Issue vendors and connect them to specialist housing, health and other support services best able to address these needs.
Support our work today www.bigissue.org.uk/donate