My name is Tony. I am 58 years old and have been selling the Big Issue in the Victoria area of London since April 2017.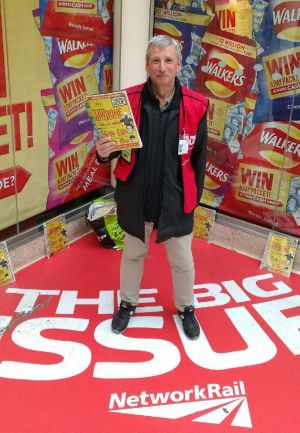 Before this I had been living out of the country for many years. I used to be a consultant design engineer in the energy industries but had suffered from burn-out and went to live in France about 17 years ago. I have also lived in Spain and, most recently, Romania.
A few years ago I made the decision to dedicate the remainder of my life to helping others, drawing on my years of experience in many different areas. I was a founder of a branch of Lions Clubs International in Mallorca, where I was their Marketing and Communications officer. I also became active in raising funds to help orphan and handicapped children in Morocco. And, most recently, I was setting up my own NGO charity in Romania to help the young and long-term unemployed (a horribly large percentage of the population) by retraining them in contemporary online marketing skills, an area in which I am a specialist.
I was funding this from my own consultancy income when suddenly, without warning, my main client of 8 years standing, cut me off and I was left with no income in the depth of the harsh Romanian winter.
And thus, together with my girlfriend, I became homeless.
I was forced to return to the UK, where I had assumed I would be entitled to at least a little help, having been a home owner and tax payer there for many years. But it turned out to be far from the case, due to the recently introduced Habitual Residency Test (HRT) and its implications for returning ex-pats.
After a month of winter night shelters in the town where I had formerly lived, and making no progress whatsoever, I made the decision to move to London, a city that I didn't know well, in the hope of finding work.
My thoughts immediately turned to the Big Issue. I used to be a purchaser when visiting London in the early days of the magazine. And, coincidentally, had previously worked with John Bird's PR agency handling some online aspects. So what could be a better choice!
To cut a long story short, from that time onwards, being a Big Issue vendor has totally turned my life around. I am earning a respectable income and I am even able to save to build a new home in Romania. The land is already purchased.
I work long hours 7 days a week, but I firmly believe that you only get out what you put in to any endeavour. This is a real job that works in exactly the same way as all other types of self-employment.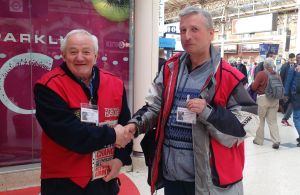 In June I recently took on a pitch at Victoria main line train station, a bustling hive of activity where the Big Issue has a specially allocated area. This was made possible thanks to the wonderful partnership The Big Issue Foundation has with Network Rail.
My colleague Donato (pictured) has been working the weekly morning shift there for a year and now has an established business there. I am working the remainder of the time – afternoons, evenings and some weekends.
It is certainly a challenge, because of the sheer scale of the operation, but it is already showing signs of growth as I determine the key hours and begin to establish a rapport with regular purchasers. It seems to be the less sociable hours that are working best for me, when the station is quieter and I thus have greater visibility.
I must say that the station staff have been very friendly, helpful and supportive. Security is a key factor throughout Victoria, due to its location between Buckingham Palace and the Houses of Parliament, and the train station is a focal point. Everyone needs to work together to ensure it stays safe.
I find that one of the main benefits of being a Big Issue vendor is the opportunity for networking and making contacts. I already have a growing list that could not conceivably have been created otherwise. And many of them already helping me in so many ways in addition to being regular purchasers.
I would like to take this opportunity to thank personally The Big Issue Foundation for this opportunity with Network rail and thank the so many wonderful Big Issue supporters I have encountered in Victoria these past few months, and indeed the Big Issue team without whom my "renaissance" would not have been possible. It is through their dedication and enthusiasm that I can now see the light at the end of the tunnel and hopefully a wonderful future not only for myself but also my girlfriend and 2 children whom, thanks to the Big Issue, I am able to continue supporting.
I also thank the other vendors of Victoria for their friendship, help and inspiration. It's a great team!
Tony Woods, Victoria, London
The Big Issue Foundation and Network Rail
In the last year we have replicated our prime pitch at Euston to six further Network Rail stations; Waterloo, Liverpool Street, Victoria, Kings Cross, Birmingham New Street and Bristol Temple Meads. These prime pitches enable vendors to build a solid customer base, increase their sales and feel part of a wider team at Network Rail; with the added bonus of shelter from the elements. This partnership is 'win-win' as Network Rail gain an extra resource from a safety and security perspective. Based upon the success and credibility of the Network Rail partnership, we are in discussions with the British Transport Police alongside Transport for London. The potential is to position vendors within underground stations. The vision for these particular pitches is to offer our vendors a defined role; reporting on potential security threats as well as identifying and safeguarding vulnerable people, such as lost children. This will present our vendors with an opportunity to gain invaluable experience and be viewed as a key member of the TFL and BTP team.  Our next step is to replicate this model across the transport network within the UK as well as to shopping complexes, such as Lakeside and Westfield; creating further social and financial inclusion opportunities to Big Issue vendors.