Cracking a Smile
A meeting while sharing an apple juice proved how important a smile is.
Viv Askeland came to the UK from Norway in 1978. She married and had two children. All was fine, but then, 21 years into her marriage, she split with her husband and moved out of the family home, sleeping on sofas at friends' houses.
Little did she know it but she was only at the top of a downward spiral and she ended up on the street begging. For two years she slept under Blackfriars Bridge.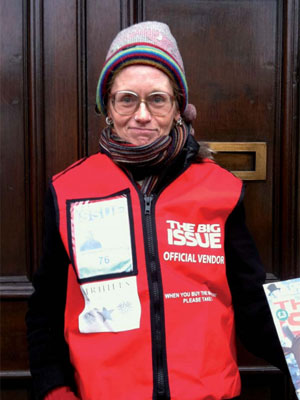 On the street Viv started knitting. At first she did it to keep her hands warm and it gave her a sense of purpose. She would knit things for people she met who gave her various knitting challenges – she felt she was truly part of something.
She met a new partner who introduced her to The Big Issue and this gave her a sense of pride. It was a job, she was appreciated for it and this increased her self-esteem. Earning her own money was key.
Through her own hard work, and the support of the Big Issue Foundation, she now has somewhere to call home and has taken great steps in her journey away from homelessness.
Viv has also been part of the Big Issue Foundation's corporate engagement project with law firm Freshfields Bruckhaus Deringer LLP. She worked there one day a week selling The Big Issue magazine in the canteen, forging links and acting as a great advocate for the cause. Viv also became a valued member of the Freshfields knitting group.
"Viv works as a tour guide on the streets where she once lived"
She still knits for various people and is part of the workforce of Unseen Tours, (sockmobevents.org.uk), a pilot scheme helping people who are homeless to find sustainable work as tour guides on the streets where they once lived. This award-winning business has had its social conscience endorsed by the Observer's Ethical Awards, and Virgin's Responsible Holidays. It offers Londoners and non-Londoners the chance to discover a fresh angle on the city, while also supporting those who have arguably been some of the most vulnerable citizens within the fast-paced metropolis.
Earlier this year, the Big Issue Foundation helped Viv get connected to Pathway, a not-for-profit organisation which empowers communities to reach their full potential and transform their own lives. Pathway helped to organise a referral to a dentist, meaning that after Christmas of this year Viv's already engaging smile will be dazzling to everyone she meets. This exciting development in her life will serve Viv well as she embraces the challenge of being a full-time tour guide and employee of Unseen Tours in the New Year.
The Big Issue Foundation couldn't be more proud of the success of Viv and her imaginative perseverance.
If you like to support our work in helping more vendors move on please make a donation today.