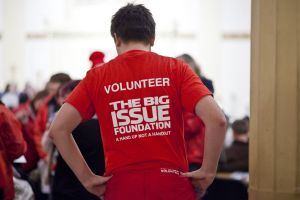 The biggest event in The Big Issue Foundation's event calendar – The Big Night Walk – is coming up on Friday 3rd March, and we are looking for lots of wonderful volunteers to help us at the event.
The Big Night Walk is a Friday night with a difference that helps to highlight the challenges facing people who are homeless. This a great opportunity for The Big Issue Foundation's supporters to see the capital in a whole new light and hear from Big Issue vendors.
Starting off in central London at St John's Church, Waterloo (home to one of The Big Issue magazines distribution points), the unique route through central London will take you on a tour of the iconic sites at night. Walkers will visit locations connected with our important work, and get the opportunity to hear personal insights from Big Issue vendors along the way on this 12 mile route.
We are looking for volunteers to help make this an amazing experience for our walkers – teams are welcome too! Our volunteers will be able to help us in many roles. Some of the key roles are:
Registering participants on arrival
Walking along the route with various small teams of participants
Supporting our solo walker group before and during the event
Talking to participants about their challenge, the training, and their motivation to take part
Welcoming participants to rest stops and serving refreshments
Celebrating with participants at the finish line
Last year's volunteers had great fun and told us they found the Big London Night Walk a really worthwhile experience:
"Charged by everyone's excitement and passion about the cause, it filled me with a great sense of achievement by volunteering to meet and greet the participants of The Big London Night Walk. Look forward to meeting new people and connecting with everyone next year!"
Matt, Big London Night Walk Volunteer 2016
If you're free on Friday 3rd March – Saturday 4th March and you're interested in learning more about The Big Issue Foundation, you can sign up to volunteer with us at The Big Night Walk here.
We look forward to having you join us!