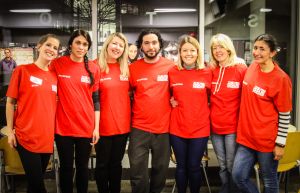 On Friday 8th March, hundreds of Big Issue Foundation supporters will take part in this year's Big London Night Walk and we're looking for lots of wonderful volunteers to help us make it an unforgettable night!
The Big Night Walk is a Friday night with a difference: while taking a unique route through central London at night, our supporters will be standing in solidarity with people facing poverty and exclusion and raising vital funds for our work. The money raised will allow the Big Issue Foundation to provide vital support to Big Issue vendors, helping them turn their lives around and get back on their feet again. We can't do this without an incredible team of volunteers giving their time to end poverty – join us!
We're looking for volunteers to help make this an amazing experience for our walkers – teams are welcome too! There are a variety of volunteer roles available across London, at Shoreditch, Camden, Marylebone and Waterloo during the evening and into Friday night.
On the night, you'll be:
Registering participants on arrival and welcoming them to The Big Night Walk
Talking to participants about their challenge, the training and their motivation to take part
Welcoming participants to rest stops along the venue, while serving hot drinks and snacks to hungry fundraisers
Walking along the route with participants and motivating them along the way
Celebrating with participants at the finish line and giving out well earnt medals
As well as helping us out, volunteering can be great fun! We pride ourselves on providing a great experience for all volunteers and know that our volunteers are always appreciated:
"Volunteers were amazing and enthusiastic at all check points"
"All staff and volunteers from start to finish were incredibly enthusiastic and supportive"
If you're free during the evening and night of Friday 8th March, you can sign up to volunteer with us at The Big Night Walk here.
Any questions about volunteering at The Big Night Walk? Feel free to contact us via email at events@bigissue.com or call 0207 526 3456.