The Big Issue Foundation has been shortlisted for a generous grant of £17,000 from Alpha Century powered by WhatCharity.com.
The Big Issue Foundation is delighted to announce that we've been shortlisted as one of the 6 finalists for The Big Competition organised by whatCharity and Alpha Century. The winning charity voted by you will win a huge £17,000 grant of agency servicing from Alpha Century.
Alpha Century have been helping companies and charities become recognisable and memorable brands for over 5 years. To celebrate their journey, they have decided to make this incredible community contribution to help one lucky UK charity whose impact they could help to boost the most.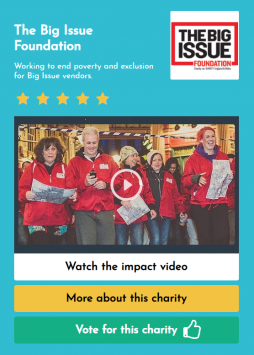 Help us become the winner by voting for us simply clicking our vote button here: http://bit.ly/WhatCharityVote2018
Your vote will help us secure the support and awareness we need to help end poverty and exclusion for Big Issue vendors.
Voting ends Midnight Thursday 25th October!
This initiative is powered by whatCharity.com, the leading matchmaker of charities and resources in the UK. If you admire our work, register to whatCharity.com today and leave a testimonial for The Big Issue Foundation.
Watch our Impact video below