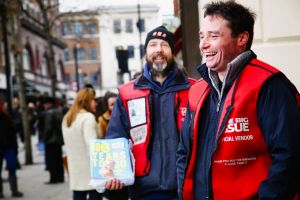 Since our appeal launched in July we have worked with over 1,425 Big Issue vendors, 27 of them have been able to reach their personal aspirations with support from our Service Brokers like Sam Grief.
A gift of just £30.00 can support Big Issue Vendors to achieve their aspirations. Big Issue vendor David wanted to compete in the Bristol to Bath Full Marathon, but couldn't afford the entrance fee (£58.30). He has run various shorter races this year, including Bristol Half Marathon, in which he did very well. The training and discipline required to participate in competitive running has enabled David to move away from long-term addiction and focus on his physical and mental health. Since getting clean, David has started to spend more time with his young daughter, who now attends all of his races to cheer for her dad. In May 2015 David applied to our Vendor Support Fund to apply for funds to obtain a place at the marathon, he had been able to save through his magazine sales his contribution towards his place (50/50 split) of £29.15. Thanks to our donors David is now running in this year's Bristol to Bath Marathon on the 25th of October.
A gift from you today will enable us to help more Big Issue Vendors, like David, in the coming months.
Give small, make a BIG difference
Further ways you can help us
Continued austerity and cuts to services for vulnerable people mean that we are expecting even more people to walk through our doors over the next 12 months. Together, we have already achieved so much, but there is still so much more we can do. We need your help to ensure that our doors are always open to support our hard-working vendors.
A lack of identification can be a huge barrier to everyday necessities like a bank account and housing. Just £9.25 helped Big Issue vendor Matt obtain a copy of his birth certificate, a widely accepted form of ID.
£50.40 enabled Oxford's Big Issue vendor Chris to buy a new suit and shoes for a job interview.
£150 can help a vendor get the required books and equipment to study for a recognised qualification that will lead to more employment opportunities and increased wellbeing.
The average age of death of a homeless person is just 47 years. A donation of £500 can pay for a dedicated Health Week that will give our sellers the opportunity to access medical treatment for their feet (a common issue amongst homeless people), addiction support and flu jabs.
Alternatively, a commitment of £7 a month could help pay for a Big Issue vendor's continual access to health supported by Service Brokers like Sam.
Behind every outcome there is a human story, life-changing progress that should be celebrated. Thanks to the loyal support of our friends and donors, our services are there to help Big Issue vendors with every step along the way.