The Big Issue Foundation are delighted to announce the launch of our brand-new online lottery scheme where you can win a huge £25,000! Play now!
We have teamed up with The Weather Lottery, Britain's leading fundraising lottery, to help raise funds for Big Issue vendors and to give you the chance to win a huge £25,000 lottery jackpot in our weekly draw.
The Weather Lottery has already raised millions of pounds for hundreds of different charities – it's a great wait to support The Big Issue Foundation whilst getting the chance to win big! Play now!
How our weather lottery works
When you sign up you'll receive a unique 6-digit lucky number for each entry you take – each entry costs £1. Then, fingers crossed, see if your lucky number is one of those selected when the draw is made every Monday.
Join via direct debit – each line costs £1 per week, £4.34 per month as some months have 5 draws.
The Weather Lottery result is based on the last digit of the fahrenheit temperature forecast for six European destinations, as published in the Daily Mail newspaper each Monday.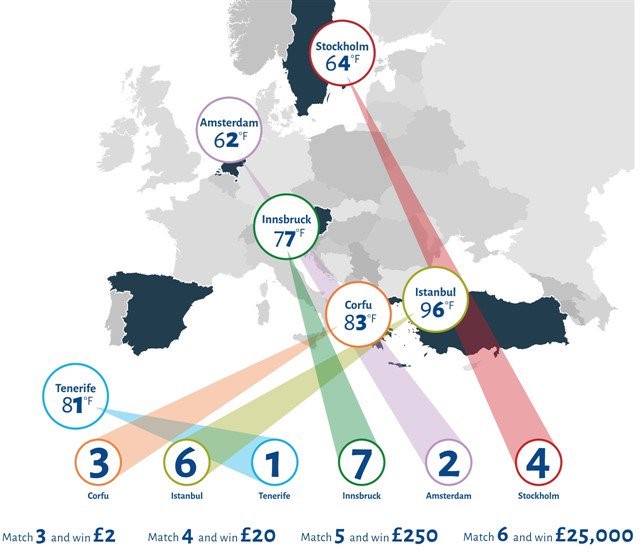 Sign up to our weather lottery now!
Prizes
If you win, we'll automatically pop your prize-winning cheque in the post for you! There's no need to claim your prize.
To win a prize you must match at least three numbers in the right order.
1st prize: Match 6 numbers and win £25,000
2nd prize: Match 5 numbers and win £250
3rd prize: Match 4 numbers and win £20
4th prize: Match 3 numbers and win £2
If you match all 6, you win £25,000 guaranteed – no sharing the jackpot!
The results will be published on the Weather Lottery's Twitter account, Facebook page. To see previous Weather Lottery draw results, check the main Weather Lottery Results page.
How £1 a week can really change lives
By signing up to just one entry a week in our lottery you will help our small charity make a big impact.

All funds raised from the lottery will support Big Issue vendors to take positive steps forward, be it a place to call home, overcoming addictions, returning to education, gaining employment, starting a new business or reconnecting with loved ones. Play now!